Sometimes, you don't really make a good choice when it comes to getting yourself inked. A botched relationship, bad tattoo art and wrong choices can leave you up in arms with your tattoo.
The bad thing about tattoos is that it is a real pain when it comes to its removal. There are new procedures being developed every day, but all of them are either too painful, way too expensive and take eons of time. But if you really need to get it done, read on to know more on how to remove a tattoo.
Different Methods To Remove Permanent Tattoo
Here is a post on how to remove a permanent tattoo.
1. Laser It Away
This is the most common and popular way to remove a permanent tattoo. Though it is one of the most effective processes, it is also painful and heavy on your pockets. The laser is pinpointed on your tattoo and over a period of a couple of sittings (depending on the size of your tattoo, the settings may be more or less), the laser breaks down the pigments in your tattoo. These tiny bits of the pigments are disposed of by the body.
Pain: On a scale of 1-10, almost an 11! (It is painful as heck).
2. Make-Up Cover Up
If you can't make up your mind for an expensive laser removal method, you can also use makeup to cover up a botched tattoo. Till you make up your mind for a laser removal, you can camouflage it with a concealer. This is one way you can adopt if you have been thinking on how to remove the permanent tattoo. These are not like normal concealers but are made especially for tattoo cover-ups. One of the best ones available in the market is the one formulated by the famous tattoo artist Kat Von D. It's called 'Lock-it Tattoo concealer' and is available in most Sephora stores. This is an easy way to remove the tattoo at home.
Pain: On a scale of 1-10, 0
This one sounds too good to be true! It's a balm which you can use to fade away that regretful tattoo. It is a revolutionary product for those looking for a tattoo fix. Unfortunately, this takes a humongous long time. You have to be religious and diligent about it. It works, but it's slow and expensive. It won't be painful to your body, but certainly painful to your pocket! So, there you go, one more way on how to remove a tattoo!
Pain: On a scale of 1-10, 0
4. Plastic Surgery
Plastic surgery is the quickest fix available and also one of the less expensive and painful ones. If you cannot go through the entire process of a laser, you can have your plastic surgeon graft another layer of skin on your botched tattoo area. This one is popular with many people.
Pain: On a scale of 1-10, 5, you will have to be admitted to the hospital for a few days.
5. Salt Scrub
This method could be a savior. If you wanted to know how to remove a tattoo, then you are just at the right place.
This method involves over exfoliation. Though it is not a good thing to scrub away your skin, this is the last resort method to get rid of an eyesore on your skin. You can use the salt scrub for a long period of time to scrub the tattoo away, but you also have to be careful about not hurting your skin too much. It's an inexpensive method, but can leave lasting damage on your skin.
Pain: On a scale of 1-10, 4
Using salt and lemon juice is one of the ways to remove a tattoo. Instead of opting for laser tattoo removal, you can use these ingredients to remove your tattoo naturally.
To use this method, mix 100 gms of salt with lemon juice and soak a cotton ball in that solution. Now rub this soaked cotton ball on your tattoo covered skin for about 30-60 minutes till the mixture is deeply absorbed by your skin. Once done, you can wash it off using warm water.
If you are looking for a tattoo removal cream, then you can try out the Profade tattoo removal cream which consists of three creams. It is one of the best tattoo fade cream. With a claim of removing tattoos within 3-9 months, each cream has a different purpose to serve.
The first cream is used to prepare your skin for the next two creams. The second cream begins the process of breaking the ink particles etched on your skin and the final cream is used to further enhance the process of eliminating the tattoo from your skin.
8. Saline Tattoo Removal
You can try out this method for eyebrow tattoo removal. You would have heard about permanent makeup application, right? Well, it is the same procedure but instead of injecting the pigments, a saltwater/saline solution is injected in the brow area.
The injected salt gently extracts the skin out of your skin without causing you much pain. Your skin will also remain intact. It can take up to 4-6 weeks for this procedure.
9. Honey
One of the best ingredients for how to get rid of tattoos naturally is honey. Follow the below instructions to prepare the best tattoo removal natural cream.
You will need fresh aloe vera gel, salt, sugar free yogurt and honey. Mix all the ingredients until it forms a cream like paste. Before applying the cream, make sure you thoroughly clean the tattoo covered area. Now apply the cream until it is completely absorbed by the skin so that it can remove the tattoo ink.
10. Lemon
Is tattoo removal painful? Yes, it is. That is why you need to try out this natural tattoo removal without laser method. Lemon is one of the most common ingredient found in our houses and it can be used for tattoo removal instead of of opting for some tattoo removal technology.
Start by cleaning the tattoo area with warm water, squeeze some lemon juice and rub it on the tattoo area. After rubbing the melon juice, wait until it dries up and your skin becomes hard. Once it is dry, you can rinse it off using warm water. Definitely a cost effective way to remove tattoos at home.
Check out the below before and after tattoo removal image using lemon juice.
Best Tattoo Removal Creams
Tattoo Removal Creams are selling out faster than you can think due to unwise tattoo decisions. These creams make your tattoo removal process all the more easier and effective, they are worth the buy. A few tattoo removal creams that have gained immense popularity for their fruitful results are :
Tat B Gone is a well rated and reviewed cream for skin alterations. It helps in effectively fading away the tattoo on the skin. This cream has gained a massive market to market itself due to the bang on affordability and productivity. It works in a three step process but is known to work better than most of those 3-step processes that exist.
Pros :
Cons :
Takes time to work
One month supply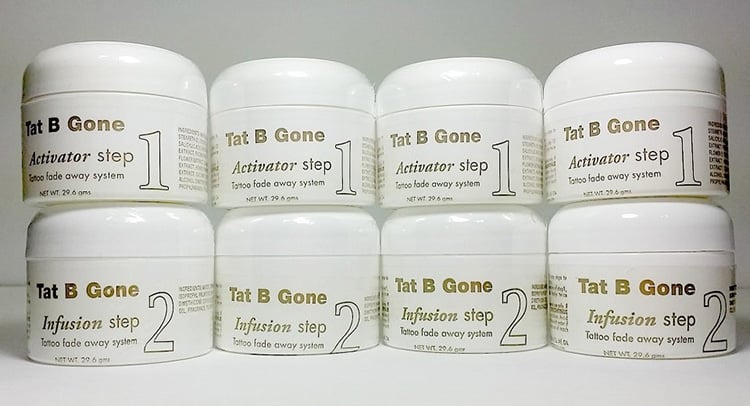 This cream comes in three steps. First step is the preparation, second step is the activation, third step is elimination. So, the first step prepares the skin for the process, the second step begins the removal process and the final step removes the tattoo.
Pros:
Cons :
Takes Time To Show Full Results
This product doesn't solely belong only to the removal of tattoos, but extends to a wide range. It works on stretch marks, scars, wrinkles, moles, acne, freckles and much more. An all in one kit, is definitely worth a buy and try! Its easy in-home use and ideal package lets you save time while working on your issues.
Pros : 
Suitable to all skin types
Cons :
Causes a burning sensation sometimes
While there are ways to remove permanent tattoos, the delicate tattoos that are done, such as eyebrow tattoos, lip or cosmetic tattoos might be a little difficult to get rid of. So make sure you think twice on the decision to get a permanent tattoo and then removing a permanent tattoo.
Hope you enjoyed this post on how to remove a permanent tattoo. Please share your comments with us.