What according to you is the worth of most expensive chocolates in the world? Would you buy it if it's also the best one in the world? Well, extreme chocolate lovers definitely would. Chocolates have a certain history about them. The chocolate was being used by Aztecs around 1900 BC. Originally, chocolates were made to serve as a drink with spices. Sugar was started to get mixed with chocolates after 1600.
The good thing about chocolates is that you can send chocolates as gifts. People especially women go nuts after fine chocolate gifts. Chocolate is considered a necessity by most but is still a luxury item with sales over 100 billion dollars. How much would you like to spend on this luxury item? Let's find out….
Here is given a list of 25 most expensive chocolate brands in the world.
You'll Love to Check this: Top 10 Largest Shopping Malls of the World
25. La Madeline au Truffe
The best truffle to impress your Valentine this year is la Madeline au Truffe. This is also the most expensive truffle in the world. You can find it at Knipschildt Chocolatier. At $250 a truffle, La Madeline au Truffle definitely aims to impress. Knipschildt describes the chocolate: "La Madeline au Truffe starts with a decadent 70% Valrhona dark chocolate, heavy cream, sugar, truffle oil and vanilla as the base for the rich decadent ganache.
24. Vosges Chocolate
Simply the best chocolate and the best chocolate selection anywhere! The tasting events pairing chocolate and wine beer or spirits are not only a treat for the taste buds but also informative. The most delicious thing is its unique flavor combinations like a chocolate and bacon and Indian curry with milk chocolate. With $69 per round, it has taken 24th position in our list.
23. To'ak Rain Harvest
TO'ak Rain Harvest is just like a dream come true. They are made from extremely rare Ecuadorian cacao variety called "Nacional". The thing about "Nacional" is that its genetic history goes back to almost 5000 years when the first known cacao trees were domesticated by humanity. Each 50 grams bar of this chocolate is presented in a handcrafted Spanish Elm wood box that is individually engraved with the bar number. Only two ingredients are used: cacao mass and cane sugar. You can enjoy the pleasures of this chocolate in just $260 per bar.
22. Richart's Intense Valentine Gourmet Chocolates
To say "I love you" to all lovers of chocolate tasting sensations, we give you "Intense Love": an alliance between the best of our permanent collection and the star of our Valentine's Day limited edition gourmet chocolates. Its tender and silky core is filled with an intense vanilla ganache. You can have the most magical experience at $77 for a box of 49 chocolates.
21. Godiva "G" Collection
Surprise the chocolate lover in your life with gourmet chocolate gifts and treats from Godiva. For 80 years, Godiva has been the premier source for a chocolate gift. Gift set of 8 G by GODIVA chocolate bars, crafted from distinctive Mexican cocoa beans. … origin bars are crafted from smooth, sophisticated Mexican chocolate. In the case of their "G" collection, the selection of 15 chocolates cost $120 USD per pound.
20. Amedei's Prendime' Chocolates
Amedei has reflected on the desires of its clients, especially those with a sweeter tooth, to a larger scale, producing a "maxi" half kilo version of the most beloved chocolates. The Prendimé represent a surprisingly tasty dessert to share with your guests. The 500 g bar, cut right on the table, emphasizes the taste of the chocolate and of the Mediterranean fruits. The customers can buy the chocolates at $55 per chocolate bar.
19. Pierre Marcolini
The chocolatier Pierre Marcolini is a perfectionist of its work. He oversees each step of the chocolates that bear his name, making adjustments as he sees fit. The average cost of Pierre Marcolini Chocolates is $102 USD per pound.
18. Eclat Chocolate
Experience the ultimate collection of internationally renowned gourmet chocolates and the "world's greatest caramels" by Christopher Curtin, Master Chocolatier. Master Chocolatier Christopher Curtin was inspired by the friendship of noted American travel/tv personality and chef Anthony Bourdain and his French counterpart, Éric Ripert. You can have all the fun at $13 a bar.
17. Ganachery Chocolates
If you get a chance to visit Walt Disney World, make sure you make a side trip to Disney Springs. There, you will find a shop called Ganachery. Their little chocolates are made right there in store from the finest ingredients, starting at $3 each. Yes, it's quite costly compared to a Hershey's bar, but a bottle of French wine is quite costly compared to a 2 liter bottle of soda pop, too.
16. Hershey's Milk Chocolate
The historic Hershey's chocolate bar was first sold in 1900 and since then it has kept the customer's interest. If you can't tell the difference between Hershey's and fine hand-made chocolates, never fear, Hershey's DOES offer a $50 chocolate bar. Its five pounds of Hershey's chocolate.
15. Jacques Torres "Mr. Chocolate"
Jacques Torres Chocolate is committed to creating fresh, authentic and handmade artisan chocolates for all to experience and enjoy. They utilize only all natural ingredients of the highest quality so our food not only tastes better – it is better for you. A 50-piece box costs $75 USD.
14. Browne Extraordinaire
You can only say that the fudgiest, most decadent brownies ever made. No need for another recipe. But that brownie will cost you $1000. It is served only in a restaurant called Brule in Atlantic City. Made of dark chocolate and Italian hazelnuts, it is served with priceless glass of wine called Quinta do Novel Nicional.
13. Simon Jewelers Chocolate Box
With a price tag over $1 Million USD, you'd think that Le Chocolate Box would be the most high-end chocolate in the world. However, it's the box more than the chocolates? Brought to us by Simon Jewelers, it's basically a million dollars in jewelry packaged in a box of very high end chocolates. Individual boxes may vary both in karat and flavors.
12. Wispa Gold Wrapped Chocolate
Wispa Gold Wrapped Chocolate is..well..Cadbury Chocolate. But not the fake stuff they're selling in the States now, the REAL stuff. Still, the value isn't in the chocolate, it's in the edible gold wrapper, bringing the price tag to a whopping $1,628 USD. Still though…you have to wonder why. It's obviously not the chocolate, and it's not like you can wear the wrapper…it might leave you…just confused
11. Chuao Chocolatier
Chuao Chocolatier is the first Venezuelan Chocolatier based in the United States and California's premier artisan chocolatier. The name is inspired by a famous cocoa growing region of Venezuela. A pound of their chocolates cost around $80 USD.
10. Richard Donnelly Chocolates
No need travel to Zurich or Paris for top-notch chocolate, as Richard Donnelly Fine Chocolates on Mission and Bay streets recently was named one of the world's 10 best chocolatiers by National Geographic. Hand made in Santa Cruz, a pound of their exquisite chocolates runs around $76 USD.
09. Grauer's Aficionado's Collection
Since a sensitive palate reflects a sensitive spirit, The House of Grauer encourages you to continue your tour around its crystalline heart. Their collections of skillfully manufactured pieces created by master craftsmen are paving the way towards a captivating journey. The House of Grauer's Aficionado's Collection Chocolates cost $275 USD per box.
08. Debauve & Gallais Chocolate
Debauve ET Gallais was the official chocolatier of the ancient kings of France. Their factory has more than 200 years of expertise in luxury chocolate. T heir chocolates are still made using the fanciest ingredients from all over the world, with no preservatives or artificial dyes. They cost around $94 USD per pound
07. Harrods and Patchi
In 2008, High-end department store Harrods and a Lebanese chocolatier named Patchi teamed up to make chocolates studded with Swarovski Crystals…because of course they did. The chocolates were packaged in handwoven silk from China and India, with a price tag of $10,000.
06. Frrrozen Haute Chocolate
This high-end version of the restaurant's Frrrozen hot chocolate was declared the world's most expensive dessert in 2007 by Guinness World Records. As for what makes it so expensive, in addition to the cocoas, frozen milk and whipped cream it's made with, five grams of 24-carat gold are mixed in, and it's garnished with La Madeline au Truffe. It costs $25,000. Seriously, you could arguably build a school or dig like a dozen wells in a third world country for the kind a money.
05. Noka Chocolate
Noka Chocolate was an American chocolate company that sadly went out of business in 2011. It's still worth noting that their "Vintages Collection" released in 2006 came with a price tag of $854 USD per pound. They were made from fancy-dancy ingredients from all over the world, and the (now defunct) company was even so cocky as to say that their products were not for the faint of heart or pocketbook.
04. DeLafee of Switzerland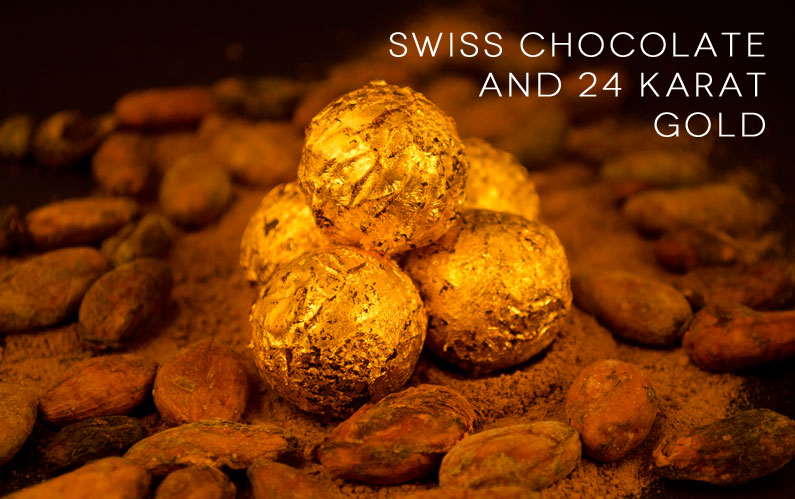 DeLafée of Switzerland's Gold Chocolate Box comes with a Swiss National Bank gold coin that was minted between 1910 and 1920. Additionally, gold leaf is applied by hand to each of the 8 chocolates in the box. Which is probably why this particular box costs $330 USD.
03. Golden Speckled Egg
The most expensive non-jeweled chocolate egg is named The Golden Speckled Egg. It weighs 110 pounds and was bought for over $10,000. It took three days and seven chocolatiers to make and contains flavors such as rosemary, Japanese black vinegar, juniper berry, and edible gold leaf. The large egg is decorated with 12 smaller ones, 20 mini chocolate bars and 5 white flowers.
02. Chocopologie by Knipschildt
Fritz Knipschildt founded the Knipschildt Chocolatier in 1999, and its most expensive product is a fantastic dark chocolate truffle that contains another French black truffle. The price for this exquisite culinary masterpiece is $250 apiece, adding up to $2,600 per pound. The truffle is made using Valrhona cocoa blended with truffle oil, the result being hand-rolled around a dark truffle before being sprinkled with cocoa powder.
01. Ta'Ok Chocolate aged 3 Years
The people who brought you the $270 USD 2014 harvest chocolate bar – also offer a chocolate that's been aged for 3 years in a French oak cognac cask for $365. These people take their chocolate REALLY seriously, only using cocoa beans called "Nacional" from Ecuador, which can genetically be traced back to the first domesticated cocoa trees. It's amazingly rare chocolate handmade with discipline and insane attention to every detail.